News Releases
September 2000
Aligning Interests in Cyberspace
Integrating online shopping with retail property*
by Mark Borsuk**
Managing Director
The Real Estate Transformation Group
Copyright © 2000. Mark Borsuk. All Rights Reserved.
Fusing Place with Cyberspace

An online nation expects to buy by catalog, on the Internet or in the store. National retailers are rapidly integrating online selling into their sales channel matrix to meet these expectations. The challenge facing developers is to provide tenants with an environment combining cyberspace and location. To succeed, developers need to align their interests with those of shoppers and merchants. If successful, they can monetize the click stream. Misalignment runs the risk of turning good properties into legacy assets.

Developer's Challenge

The goal of a retail project is to give shoppers a wide choice of merchants in a convenient location. However, cyberspace presents a paradox for them. Shoppers easily move from one retail site to another by a mouse click, negating the value of location. The challenge for developers is to use their location and tenant selection skills to profitably merge place with cyberspace.

Need to Align Interests

Trying to merge place with cyberspace requires aligning the interests of shoppers, merchants and developers. See Diagram A. The alignment analysis begins from the shopper's perspective. This is counter-intuitive to the development process. In the physical world, making the deal first requires putting together the right combination of tenants. The expectation is that shoppers will follow the retailers to the new location.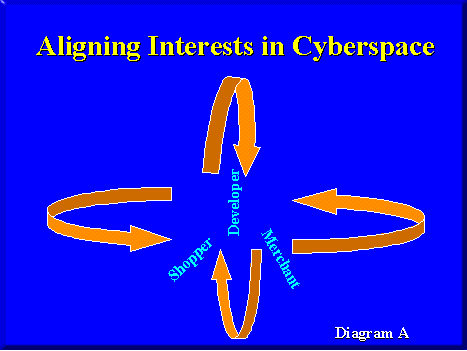 The problem for developers in cyberspace is how to add value. Just attaching a web site to an existing property offers little for shoppers. Other than occasionally checking to see what's going on at the mall, shoppers are likely to be clicking to their favorite retailer sites. In addition, most of the national and regional tenants are already selling online. The developer's home page adds little to their efforts. Thus, without the developer offering something more, it is difficult to align the interests of shoppers and retailers in cyberspace.

Monetizing the Click Stream

If developers can entice shoppers to use the mall's home page, they can create a new source of income. Registering shoppers, following their digital perambulations, conducting contests and surveys offers the possibility of data mining the click stream. If just a fraction of the tens of millions of mall customers were captured online, developers would have a new insight into visitor expectations and interests. In addition, the click stream creates a wealth of valuable marketing information for tenants and affiliates. It also represents a new source of income.

Place and Cyberspace Models

Two different models are emerging to integrate place with cyberspace and monetize the click stream. Each seeks to draw online shoppers first to the project's home page. The developers' vision, the location centric model, seeks to integrate a mall's home page with existing tenants. See Diagram B. MetaSpace, the shopper centric model, creates an integrated environment for new kinds of tenants. See Diagram C.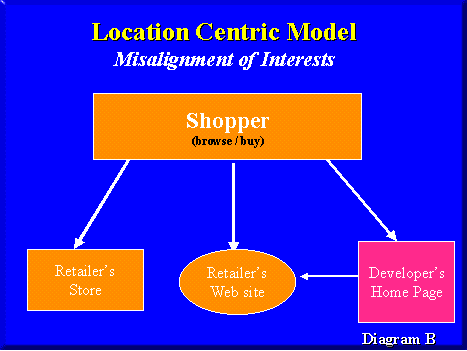 Location Centric Model

General Growth Property's Mallibu (www.mallibu.com) is an example of the location centric model. The location centric model seeks to expand the shopper's interaction with the mall. It offers a home page through which the visitor moves to tenant sites. The model requires online order fulfillment from in-store inventory. In-store fulfillment preserves the sale for rent calculation purposes. Mall branding underlies the location centric model.

Will Mall Branding Drive Shoppers Online?

Some believe a developer's name recognition, like a national brand, can motivate shoppers to patronize the mall's home page before clicking to a retailer's web site. This seems unlikely. There is little direct evidence shoppers pay any attention to mall branding. See Mark G. Gambill, Shopping Center Branding: Does it Make Sense?, Real Estate Issues, Spring 2000, pp. 13-27.

In the case of visitors to first class regional and super-regional malls, they already expect a clean, safe and entertaining environment. What primarily differentiates the shopping venue for them is tenant mix. In a sense, the mall is a stage and the merchants are the actors. The shoppers come for the show, not the theater owner.

An even more tenuous proposition is that branding can drive traffic to a mall's home page. This assumes the shopper will positively associate the physical world experience with the developer's online activities. However, by making the shopper go through the mall's home page to reach the tenant, the developer creates an impediment. In many instances the shopper is going to the retailer's site directly, so placing a barrier ahead of the merchant's site misaligns the interests of the shopper and developer. This is exactly the opposite situation from the physical world, where providing a convenient venue benefits the shopper and developer.

In sum, trying to engender loyalty and brand recognition from shoppers in real space is difficult enough, let alone thinking the brand name by itself can pull shoppers onto the mall's home page. Believing it will do so seems overly optimistic.

Retailers Misaligned

The location centric model presents another problem for aligning interests with retailers. The in-store order fulfillment requirement creates a conflict with the need to drive down supply-chain costs, improve inventory turnover and create an integrated sales channel matrix for multi-store tenants. The location centric model requires each store to become a mini-logistics' center to receive bulk merchandise, display it, retrieve individual items and hold them for pick-up or shipment to the customer. See Jenny Oh, Who's the Fairest Of the Malls?, The Industry Standard, July 24, 2000, pp. 227-230. www.thestandard.com/article/display/0,1151,16795,00.html
The location centric model relies on existing shopping patterns, e.g., weekly visits and a standard tenant mix. The alignment of interest analysis demonstrates developers need to provide shoppers and retailers with greater incentives for online participation. Otherwise, the mall's Internet overlay will prove disappointing.

MetaSpace -- Shopper Centric Model

The goal of the shopper centric model is to align the interests of the shopper, merchant and developer. MetaSpace is the model's name. MetaSpace merges place and cyberspace by creating an entirely new form of retail development. It utilizes an online presence to anchor experiential merchants and service providers into a physical space. MetaSpace offers the benefits of online purchasing while extending the merchant's reach by allowing customers to browse, shop or buy in the store or online.

MetaSpace Is Different

Four factors distinguish MetaSpace from the location centric model. First, MetaSpace aligns the interests of shoppers, merchants and developers. Second, it features a new class of tenants. Third, MetaSpace is a database. Fourth, the model captures revenues.

MetaSpace Aligns Interests

The essence of MetaSpace is to offer unique merchandise and services from one physical location but reachable online. The draw of MetaSpace is exclusivity. Unlike the mall developers seeking to brand their properties, the tenants create the brand for MetaSpace. The MetaSpace tenant mix is sui generis to the region and not available elsewhere. The model allows customers to browse, shop or buy in the store or online.

MetaSpace acts as an incubator to promote innovative tenants. The developer hosts the merchant's microsite on the MetaSpace home page. Shoppers have an incentive to go to the developer's home page to search for them. The quid pro quo for microsite hosting is exclusivity. Instead of maintaining an independent web site, tenants reside on the developer's home page.

The prime location for MetaSpace is a wired city. New York and San Francisco are ideal venues because of their large online user population, tourists and hip merchants. The modular nature of MetaSpace makes it suitable for office buildings, hotels or to add cachet to existing malls. See Diagram D.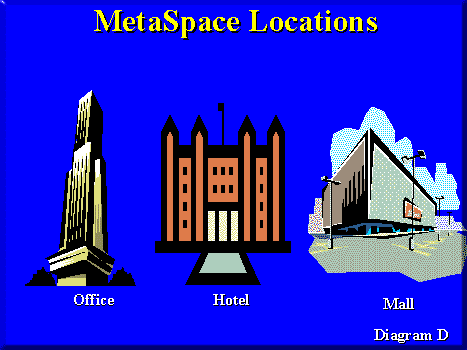 In sum, MetaSpace offers something of value to the shopper, merchant and developer. It also validates the developer's skill of agglomerating merchants in a convenient place for shoppers.

MetaSpace Tenants

The tenant mix of MetaSpace is a blend of boutiques, cottage industries, unique service providers and artisans in an upscale, cosmopolitan setting. Heterogeneity is the norm. The Internet gives worldwide presence but allows them to remain within their local milieu.

Many tenants will be new or needing only an outpost to do business. See description below. Typical mall tenants are unlikely candidates for MetaSpace although they could find it useful. Enhancing the tenant mix are manufacturers and lifestyle service providers. The Midway is an added attraction to build interest and foot traffic. See Chart E.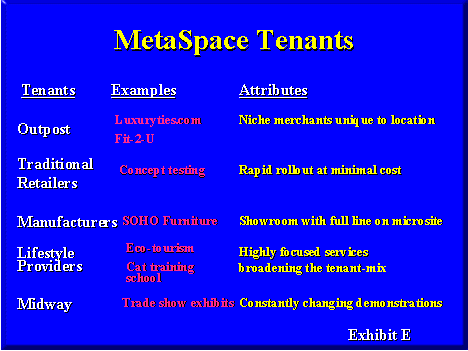 Outpost Tenants

Outpost tenants are embryonic enterprises, small businesses and artisans using space in dynamic new ways. Their very specialized nature is greatly enhanced by the shopper centric model. MetaSpace provides Outpost tenants with a potential customer base unconstrained by geography. Nevertheless, property developers, like venture capitalists, need to incubate some of these new entrants.

MetaSpace's unique environment will attract Outpost tenants. Two examples, a actual merchant and one that is hypothetical illustrate the point.

Luxuryties.com

Luxuryties.com is a web site for traditional English ties. The Savile Row merchant has one store for servicing the world. Shoppers can view many tie and shirt combinations online to determine the best color mix. The benefit to customers is being able to purchase authentic English neck ware in a self-paced shopping environment.

Fit-2-U

Fit-2-U is a body-scanning service for bespoke clothing. Customers visit the store for a precise body measurement. The scan converts to an algorithm for clothing manufacture. The store also showcases local designers and manufacturers. In the showroom, customers may view themselves in individually created outfits, feel the fabric and place orders. Alternatively, they can go to Fit-2-U's microsite to create an outfit for purchase. Fit-2-U's distinguishing feature is the number of designers and manufacturers offered to customers. This in turn drives traffic to the showroom and microsite.

The boutique nature of Outpost tenants makes them ideal candidates for MetaSpace. Their offerings, while universally available via the Internet, provide the intimacy and uniqueness inherent in a one-of-a-kind shop.

Traditional Retailers

How can national and regional retailers use MetaSpace? Common wisdom would reject MetaSpace as being in conflict with the merchant's online effort. Thus, the retailer has little incentive to subsume their name recognition and direct customer access to being part of a developer's site and paying for the privilege. However, asking the question another way opens up new possibilities.

When one asks, "What does it cost to roll out a new merchandising concept versus testing the idea in MetaSpace?" then using MetaSpace seems less outlandish. The cost of opening multiple locations and cluttering-up the retailer's Web site with a new concept could far outweigh testing the concept in MetaSpace.

Manufacturers

Manufacturers have an incentive to develop customers directly via MetaSpace. For example, a home/office furniture maker's microsite would give customers the ability to arrange furniture within a rendering of the customer's space. Other customers could visit the manufacturer's showroom to see samples or do their virtual planning in person. MetaSpace offers niche manufacturers a greater opportunity to reach buyers than is possible by using wholesalers and retailers.

Lifestyle Providers

In addition to merchandise, MetaSpace offers a special venue for lifestyle providers. MetaSpace permits them to cater to a wide spectrum of interests. Tenants could include an eco-tourism operator, a smart home designer, a cooking academy and a cat training school. The business prospects of a highly targeted lifestyle service provider are enhanced by the hybrid concept of MetaSpace.

The Midway

The Midway at MetaSpace puts visitors in a carnival-like atmosphere of constantly changing trade show exhibits. These temporary tenants, located in the café and restaurant area, offer everything from using digital cameras to preparing Peking Duck. The Midway's purpose is to entertain, educate and enchant patrons, whether online or walking through the project. A unique feature of the Midway is to provide online audio and video feeds from the presentations.

Incubating and working with new tenants challenges developers to revise their thinking about tenant mix and shopper preferences. Using the Internet adds a new and profitable dimension to the shopping experience.

MetaSpace Is A Database

The lack of direct contact between the property owner and shopper makes it difficult to learn their habits, interests and dislikes. Polling and survey data help, but once the customer enters the store the developer's ability to gain insight into customer activities greatly diminishes. MetaSpace merges these data boundaries. See Diagram F. Online visitors enter the merchant and service providers' microsite through the developer's home page. The home page records the visitor's activities within the microsites. Shoppers do not find this intrusive since web sites by their very nature track the click stream.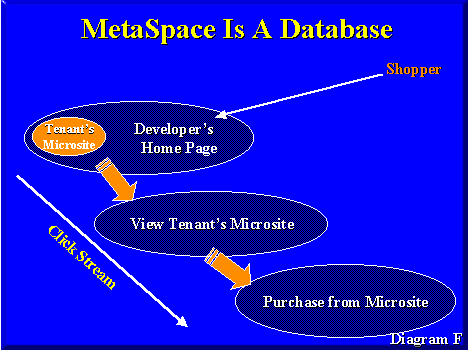 The special nature of Metaspace also gives visitors an incentive to register online. This information provides an additional level of detail about shoppers for the developer. The tenant also shares data with the developer as the quid pro quo for the developer hosting the tenant's microsite. Aggregating the data gives the merchant and developer an insight into buying preferences and for use with affiliate programs.

MetaSpace creates a database by aligning the interests of the shopper, merchant, and developer. All three benefit by enhancing the click stream.

MetaSpace Captures Revenue

The location centric model creates a conflict with retailers having transactional web sites. The merchant's first priority is to drive traffic to the web site directly. MetaSpace avoids this conflict by hosting the tenant's microsite. In other words, the tenant does not maintain an independent web site. In return the developer charges for hosting the microsite. The developer can charge a "click thru" fee whenever a visitor hits the tenant's microsite. Also, the developer can charge a "buy thru" fee when the shopper purchases from the microsite. See Diagram G. In addition, MetaSpace encourages tenants to hold inventory in the most efficient manner. By doing so, MetaSpace aligns the tenant's need to maximize sales and the developer's need to generate revenues.


Divergent Models?

The Location Centric Model and the Shopper Centric Model do not compete directly. One seeks to preserve the vitality of existing projects; the other MetaSpace seeks to create a new shopping environment.

Initially, the large developers like Simon Properties and General Growth Properties have a distinct advantage in bringing their vision to fruition: tens of millions of visitors to their malls. However, the location centric model does not yet align the interests of shoppers and retailers with the developer. Perhaps, they can overcome the misalignment by offering shoppers a free Internet service connection like Kmart is doing for their customers with http://www.bluelight.com/ A free Internet service might generate enough incremental sales from online shoppers to justify the inefficiencies of in-store fulfillment. Kmart claims three million customers have gone online, and forty percent are new to the Internet.

MetaSpace, the shopper centric model, does not enjoy the benefits of incumbency. Rather, it breaks with tradition by promoting tenants who can successfully project themselves into cyberspace and maximize the advantages of a single location. The model's organizing principle is to align the interests of the shopper, merchant and developer. MetaSpace is not a stand-alone project but a module that fits within an office building, hotel or an existing mall. It adds excitement, novelty and distinction to the project.

The models do overlap with one class of tenants: single store merchants and service providers. In this instance, they share a number of similarities. They seek to showcase unique tenants, encourage global merchandising via cyberspace, spur online shoppers to use the developer's home page and set the project apart. Over time the models could converge around these attributes with the location centric model seeking more tenant diversity and MetaSpace finding a receptive audience with traditional retailers.

"Today we are all experts and we are all going to be wrong" is the way to characterize the present situation. The first generation of online retail property models is emerging. They are crude, evolving and expensive. If developers can align their interests with the shoppers and merchants, they can lead the way to retailing's next revolution. (Revised September 18, 2000)


*Shopping Center Business, October 2000, pp. 120-127

**Mark Borsuk (mailto:mark@borsuk.com) is Managing Director of The Real Estate Transformation Group, a firm analyzing information technology's impact on space demand and providing strategies for property owners, developers, retailers and lenders. In addition to consulting, Mark is a retail leasing broker and real property attorney practicing in San Francisco. Borsuk is also the creator of MetaSpace. Service Mark registration pending.

Some have called him a "fringe visionary" for advocating radical change in store leasing strategy. In his view, high tech is becoming everyday tech for many people. Everyday tech changes geocentric shopping habits, retailer space needs, rents and property values. Everyday tech also makes possible MetaSpace. MetaSpace is retail development's new frontier by leveraging cyberspace with location.

Mark writes frequently about the impact of online buying and MetaSpace. His articles appear in California Real Estate Journal, Chain Store Age, Discount Store News, ICSC Research Quarterly, Pensions & Investments, Real Estate Review, Shopping Center Business, Shopping Center World, The Industry Standard and Urban Land. Much of his analysis is on the Internet.

Mark has presented his ideas to the American Real Estate Society (ARES), the Appraisal Institute, the International Council of Shopping Centers (ICSC), the International Mass Retail Association (IMRA), the National Association of Industrial and Office Properties (NAIOP), the National Association of Real Estate Investment Managers (NAREIM), the National Retail Federation (NRF), the Stanford Real Estate Round Table, the Urban Land Institute (ULI) and institutional investors.

Prior to entering real estate, Mark was a foreign exchange trader and currency advisor in New York and Tokyo. Speaking and reading Japanese, he pioneered in the analysis of the Yen and the Japanese money markets. His articles appeared in many financial publications including Euromoney and the Asian Wall Street Journal.

Mark holds an MBA from Sophia University (Tokyo), a Japanese language certificate from Nichibei Kaiwa Gakuin (Tokyo), and a JD from Loyola University (Los Angeles) where he was a member of the Law Review. He is a native Californian and retail property owner.++++++


Articles by Mark Borsuk

How Online Buying Defies Site-Selection Folklore, Shopping Center Business (May 2000)
http://www.thespaceplace.net/columns/borsuk062000.htm

Under the Knife, The Industry Standard (January 24, 2000)
( www.thestandard.com/article/display/0,1151,8897,00.html )

Death at the Margin, The Industry Standard (October 4, 1999)
( www.thestandard.net/articles/display/0,1449,6556,00.html )

In the Balance: The Net Changes Location Analysis, Chain Store Age (May 1999)

Online Buying Creates New House Rules, Shopping Center World (May 1999)
( www.internetreview.com/pubs/scw/99may/scw9905f.html )

Nowhere Yet Everywhere: Investigating online buying's impact on retail property values.
(April 1999) ( www.thespaceplace.net/columns/nowhere.htm )

Millennium Madness: Taking the shop out of shopping. (November 1998)
( www.thespaceplace.net/columns/millennium_madness.htm )

TOTAL WAR: online buying's assault on the store. (October 1998)
( www.thespaceplace.net/columns/war.htm )

A New Sense of Place: INFOTECH's impact on the Home. (June 1998)
( www.thespaceplace.net/columns/infotech_home.htm )

The Mad Mohel: Will Cybersurgeons Clip Retail REITs? (May 1998)
( www.thespaceplace.net/columns/mad_mohel.htm )

On-line Shopping's Impact On The Retail Store, Shopping Center Business
(May 1998)

Retail Leasing Strategy for a Wired World, Journal of Applied Real Property
Analysis, Vol. 2, 1998 ( www.thespaceplace.net/columns/strategy.htm )

Web site cast big shadow over real estate leasing strategy, Discount Store News
(January 5, 1998)

Third Wave Chutzpah: retailer leasing strategy for a wired world. (September 1997)
( www.thespaceplace.net/columns/chutzpah.htm )

Cybermalling-A Retail Death Sentence?, Journal of Property Management
(March/April 1997)

Third Wave Wipeout: Do retailers need landlords in a wired world? (July 1997)
( www.thespaceplace.net/columns/wipeout.htm )

The Challenge of Information Technology to Retail Property, Urban Land
(February 1997) (www.uli.org)

Will On-line Shopping Impact Retail Leasing? (June 1997)
( www.thespaceplace.net/columns/icsc.htm )

Technology complicates real estate investing, Pensions & Investments (January 20,
1997)

THIRD WAVE TSORIS: Do Real Estate Investment Fiduciaries and Appraisers Have
Greater Liability in the Information Age? (November 1996)
(www.telecommute.org/borsuk6.htm)*

THIRD WAVE WIPEOUT: INFOTECH's Impact on Retail Space Demand.
(www.telecommute.org/borsuk5.html)*

Third Wave Wipeout: Commercial Property Investment in the Information Age.,
Inman Real Estate News (June 25, 1996) ( www.inman.com/news/9606/960625g.htm )

Is Commercial Real Estate Investing Still Profitable in the Information Age?,
Real Estate Forum (June 1996)

What Is the Impact of INFOTECH On Commercial Real Estate?, SIOR
Professional Report (Spring 1996)
(draft www.telecommute.org/borsuk3.html)*

Don't be a Cyberputz, California Real Estate Journal (March 1996)
(draft www.telecommute.org/borsuk4.html)*

Real Estate Tax Policy for the Information Age, Real Estate Review
(Winter 1996) (draft www.telecommute.org/borsuk.html)*

Commercial Real Estate: Road Kill On The Info Highway?, Microtimes
(October 1995)*
(9-01-00) *Contact author.
News Releases | Articles | Upcoming Talks | Memorable Quotes
Links | About Mark Borsuk | Search | Add to E-mail List
Contact Info | Paris Flat 4 Rent |Home
Copyright ©1995 - 2019. Mark Borsuk. All rights reserved. Disclaimer notice