Sliding Down the Bleeding Edge
Can malls hang onto online shoppers?

Mark Borsuk*
Managing Director
The Real Estate Transformation Group

ARES 17th Annual Meeting
Corporate Real Estate - Session 29
April 20, 2001 - Coeur D'Alene, ID

Copyright © 2001. All Rights Reserved. Mark Borsuk.

ABSTRACT

The mall developers' ambitious plan to bring shoppers online and offer new economy services to tenants is stumbling. What are the conflicts, compromises and challenges facing them? For shoppers, the initial attempt was a bust. Seeking to drive online sales through mall stores failed to align the shoppers interests with those of the developers. The current idea favors using the Web as "brochureware deluxe" to spur foot traffic. The next iteration may be to create captive tenants along the lines of MetaSpacesm. MetaSpacesm is a blueprint for integrating place with cyberspace. For the retailers, the developers are better focused on providing them with broadband and software applications. Unfortunately, the first-mover advantage of providing broadband has a short shelf life. Furthermore, using landlord-developed retail software applications seems questionable. Finally, merging place with cyberspace creates greater complexity and risks for the parties as it introduces intellectual property and telecommunications legal issues into the lease.

I. Online Shopping and the Mall - Does it work?

In January, thirteen percent of the entire US population, or thirty-eight million people, bought a product online.1 Last year twenty million households were buying online and next year their number will double to forty million. See Slide 1. The phenomenal growth of the Internet population, the popularity of online shopping and the $29bn 2 of merchandise sold last year makes online buying as American as apple pie. Mall developers are not ignoring the trend. They are seeking to capture the allure of cyberspace, counter supposed shopper flight and provide new value for tenants. 3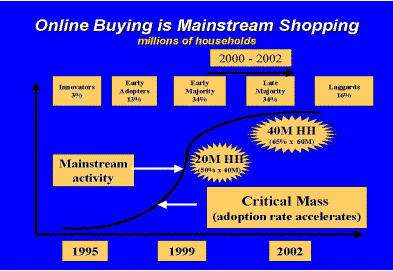 A significant portion of the online population matches mall shopper demographics. First, women represent fifty percent of the online buyers.4 The Real Estate Transformation Group projects them to reach sixty percent of the online buyers by 2002. Women comprise about two-thirds of the mall shoppers.5 The household income levels of mall shoppers and online households are correlated. The Pew Internet and American Life Project survey for November-December 2000 found that sixty-four percent of households earning between thirty and fifty thousand dollars were online. Seventy-two percent of the households earning between fifty thousand and seventy-five thousand dollars were online and above seventy-five thousand dollars, eighty-two percent of households were online.6 According to the ICSC these three income brackets comprise almost sixty percent of mall shoppers. 7

Race and ethnicity also play a factor but to a lesser extent. The ICSC reports about twenty-five percent of mall shoppers are African-American, Hispanic and Asian.8 However, this varies by region, with the highest concentration of Black shoppers in the South and the highest concentration of Hispanic and Asian shoppers in the West. Online, the situation is different. Forty-three percent of adult African-Americans and forty-seven percent of Hispanics are online. Traditional mall retailers may find reaching these potential customers is easier online than through their stores.

Even though the relationship between online household income and mall shopper income is favorable, the type of merchandise sold online in many instances is dissimilar to what is offered in the better malls. See Slide 2. The reason for the mismatch is upscale malls offer a wide variety of experiential goods and services. Shoppers need to touch, feel and enjoy the experience before purchasing. It is one thing to buy a book or office supplies online, but quite another to buy fashion items like dresses, shoes and fragrances.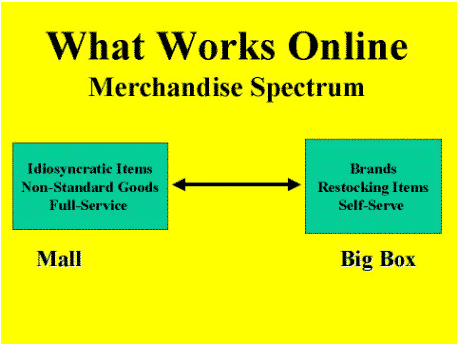 The asymmetry between the online demographic and the merchandise would seem to shelter many malls from the fear of sales cannibalization. In a sense, the mall owners are like the Navy Brass during the inter-war years (1919-1940) trying to grapple with the potential threat of ship-based offensive aircraft. Naval strategy was built on massing firepower in line-of-sight confrontations. Battleships became the epitome of naval pride. The surprise attack on Pearl Harbor forced the Navy to shift to a carrier based battle strategy.

The mall developers, like the Navy Brass, recognize a growing threat, but are still in a defensive posture. They need to protect their legacy assets, the malls. The time has not arrived for them to make a strategic shift. When it does, the conflicts and compromises inherent in the present strategy will disappear, just as Pearl Harbor resolved the debate over the primacy of the aircraft carrier.

However, during the hiatus, many mall retailers have a powerful incentive to serve their growing customer base online. One important reason is to provide customers with a ubiquitous presence. This is called omni-channel retailing. 9 A growing number of customers want to query the merchandise online by size, color, pattern and price, and purchase whenever and wherever it is convenient for them. Another reason for having the selection online is to reduce in-store inventory and possibly store size. Finally, a Web site gives merchants greater opportunity to learn about their customers' preferences, run targeted email promotions and provide ancillary services. Thus, improving technology and customer interest gives tenants reason to move a portion of the shopping experience online to the detriment of mall owners.

Recognizing the trend, the mall developers have shifted from trying to force online transactions through the stores to a strategy of driving foot-traffic by providing information on mall events and store promotions. "Brochureware deluxe" is an apt way to describe their fallback position. Using cyberspace this way is not likely to be any more successful. A recent Simon Property announcement to end MallPerks may explain why. MallPerks was a frequent shopper gift program that ran from 1997 and had over two million members.10 One possible explanation for the curtailment could be that property owner promotions have very little impact on store sales. Furthermore, if the program was disappointing to motivated terrestrial shoppers, can it be successful in an online format?

MetaSpacesm provides mall developers with the opportunity to integrate cyberspace with their properties. Unlike the original effort to drive online sales through mall stores 11 or the current approach, of dispensing coupons, developers have the opportunity to align their interests with those of the shopper and merchant. The essence of MetaSpacesm revolves around the captive tenant. The merchant is beholden to the developer because the merchant does not have an independent Web site. The developer provides the hosting, ancillary services and the physical location to conduct business. See Slide 3. MetaSpacesm tenants do not threaten big name retailers. Instead, they are locally based, highly focused and single store merchants. They complement rather than detract and provide the online shopper with an incentive to purchase online or visit the MetaSpacesm location in the mall, office building or hotel.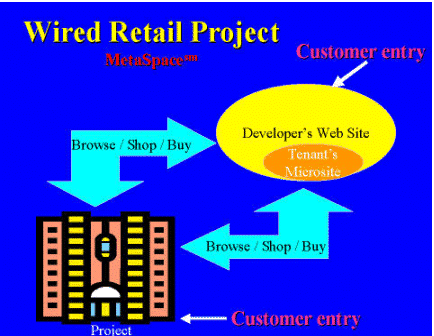 MetaSpacesm is one of several models for integrating physical space with cyberspace. In Hong Kong, Dickson Poon created a highly sophisticated technology marvel called Dickson CyberExpress ( www1.dicksoncyber.com ). 12 What sets this development apart is that a luxury goods retailer created it. The 70,000 sq.ft. shopping experience is located on three subterranean levels in a Kowloon railway station. The integrated online and offline shopping areas are: Entertainment World, E-World, Sports World, Fashion World, iCosmetic World and Kiddy World. The fact that a retailer created this center puts the mall developers on notice to broaden their horizons.

Mall developers are groping for the right formula, but the present effort is misguided and unsustainable. They need to consider a hybrid of MetaSpacesm and CyberExpress for aligning their interests with those of the customers and merchants.

II. Developer Provided Broadband and Software Applications - What Value?

Mall developers had little incentive until last year to provide telecommunications and software applications to merchants. This is different from the office environment, where tenants demand access to high-speed data networks. The change in retailer needs resulting from customers buying online motivated the large mall developers to offer broadband and software applications specialized for retailers. The MerchantWired consortium (www.merchantwired.com) is led by Simon Property, and General Growth Property offers GGP Network Services (www.generalgrowth.com) to its tenants. Services include creating and hosting Web sites, providing faster credit card authorization, reducing telephone charges by Voice over IP, and application software.

While the need to acquire software and telecommunications competencies for retail developers was foreseeable 13, the current offerings are sub-optimal and have a short self life. Two examples illustrate the challenges, conflicts and compromises ahead for the developers.

A. Broadband Revenue Prospects Dim.

The effort to avoid having their malls consigned to legacy status has focused developer attention on broadband. They are responding to meet perceived tenant needs and to retain Wall Street's support. Bandwidth describes the capacity of wiring (or in the case of wireless via a laser or microwave broadcast) to carry communications and how much information can travel along a pathway in a given period of time. Services like full motion video and Voice over IP to use the Internet as a telephone become practical at higher bandwidth. Broadband refers to high data transmission speeds.

Simon and GGP believe retailers need broadband for internal communications, credit card processing and customer support. However, the lack of exclusivity, the commodity nature of broadband and the inherent risks in providing the service make the profit potential limited and transitory.

The broadband strategy of office building owners is instructive for analyzing how mall developers will fare. What makes the office example important is that tenants are users and continually need more bandwidth. In general, the building owners have not provided exclusive services to tenants, but instead allowed multiple competing carriers to serve their tenants. Furthermore, the Federal Communications Commission ruled last year that property owners could not enter into exclusive access agreements with telecommunications providers. However, landlords can still designate the tenant's broadband service provider through the lease. Nevertheless, most retail landlords will find it advantageous to follow the lead of the office building owners. 14 Not only is it possible that GGP could aggressively market to MerchantWired's customers and vice versa, but other broadband providers may seek to provide their services to retailers. The advent of multiple broadband providers will commoditize the service and continue to force down prices.

Another question concerning the mall owners' broadband effort is, why was it not done in conjunction with the National Retail Federation or the International Mass Retail Association? Collaborating with the NRF and IMRA would have smoothed the way for rapid acceptance by members, making it a win-win situation. Instead, the mall developers must go it alone to sell the service.

Additional questions remain. How will MerchantWired compete with a retailer's existing broadband provider? Could the landlord force the tenant to use one broadband provider? These questions were asked during a presentation at the National Retail Tenants Association (NRTA) Roundtable on April 11 in Oakland, California. The retailers and their counsel were clearly chagrined over the prospect of having limited service options.

There is also the question of whether retail developers are taking excessive risks by investing in a service likely to be commodified. Again the experience of the office building owners is instructive. In February BOMA (Building Owners and Management Association) hosted the Broadband Building & Commerce conference. The purpose was to discuss how building owners could use broadband to attract and retain tenants, and generate profits from these services. Many of the owners and managers attending expressed reservations over directly providing broadband and software applications to tenants. The risk was too high relative to the income potential. See leasing discussion below. Most thought creating an environment for multiple providers with some modest revenue upside was the optimal strategy. Despite the protest from one brokerage firm's research director about how providing broadband would greatly enhance earnings, the audience remained cautious.

In sum, retailers will need broadband in their stores, but the developers' first-mover advantage is transitory. Competitors are likely to reduce profit opportunities, with the developers exiting the business within two years.

B. Will Retailers Use Landlord Developed Inventory Software?

MerchantWired is offering retailers a software application that gives shoppers the ability to determine whether an individual item is in a particular store, purchase it online and have it ready for pick-up or shipping. The Web sites for Best Buy and Circuit City also have a similar capability, although they do not use the same software.

Offering advanced inventory management software for multi-channel retailers is a coup for MerchantWired. The consortium is an investor in Found.com (www.found.com). However, landlord-created software for a retailer's internal use raises a number of questions.

First, where is the software's retail genesis? In February, Chain Store Age carried a supplement entitled The Multichannel Challenge: Merging Clicks With Bricks. The supplement discussed Found.com's origin and functionality, and showcased a retail user. Most notable were profiles of the company's key executives: an ex-football legend, a former investment banker, and a computer developer. The lack of retail experience was painfully evident, especially in the crucial areas of multi-channel retailing, inventory management and supply chain logistics.

Second, even assuming the software works as advertised, why was MerchantWired not partnering with the NRF, a recognized retail consulting firm, or a proven retail software vendor to market the software? Developing enthusiasm among potential users without the support of trusted intermediaries seems counter-productive.

Finally, retailer-created solutions from Best Buy and Circuit City could rapidly undercut Found.com's initial advantage should they choose to offer their inventory management software to the retailer community. They could do so on their own, in partnership with a software vendor or through a trade association.

Collectively, the major mall developers have rapidly acculturated themselves to the mainstays of the New Economy, broadband and software applications, to benefit their tenants. In the case of broadband, there seems little chance of fending off competition and preventing an erosion in profit margins. Partnering with an untested start-up to offer complex inventory and transaction management software seems overreaching.

III. Retail Leasing - New Risks for Tenants.

The developers moving into cyberspace extend the traditional lease beyond the confines of real property and contract matters into the realm of intellectual property and telecommunications law. Landlords and tenants face new challenges and conflicts in this wired world. See Slide 4. The parties are just beginning to recognize the issues.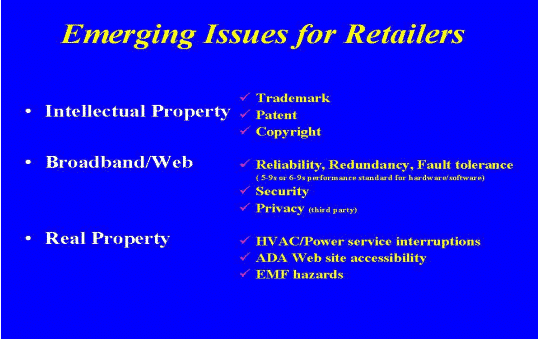 A. Intellectual Property Law.

Tenants must be aware of how intellectual property law can impact their relationship with mall owners. Patent infringement by the developer's Web site is a real concern. Amazon.com's One Click ordering system is an example of a business process patent.

When Barnes & Noble.com sought to use it, Amazon.com sued. The inadvertent use by a developer of a business process patent could potentially draw tenants into litigation. How can the tenant offset the risk? Trademark violations are another potential problem. Recently, Simon Property sued MySimon.com, the online comparison shopping site, over trademark infringement. Could a mall owner's Web site design possibly infringe on a third party trademark? If so, what protections should the tenant seek? Finally, copyright issues abound. Is the developer's Web site using words, images and sounds of others without their permission? How does a tenant protect against the risk?

B. Broadband, Web Hosting and Telecommunications Law.

The advent of high-speed data networks and software applications in the mall raises new legal questions for retailers.

Retailers need to inquire about the reliability, redundancy and fault tolerance of data networks, especially if the merchant's point of sale system (cash register) is connected to the network. See Slide 5. What is the landlord promising in terms of system downtime? Is it realistic during the heavy demand periods like sales and over the holidays? Should the tenant demand a higher performance level like five nines (99.999% = 5 minutes and 27 seconds per year) or something stricter? What are the safeguards against viruses coming from a landlord-supplied service or hacker intrusion through the landlord's system into the merchant's computers?


Online security is another critical issue. How secure is the broadband connection being supplied by the developer? Does it fully protect merchant data transfers? What happens

if a hacker breaks into the landlord's Web site and compromises visitor information? Could the retailer incur liability for a security breach on the landlord's site? Would it be a violation of federal or state privacy laws?

C. New Real Property Issues.

Tenants also need to consider the physical aspects of the New Economy. What are the risks of electrical power interruptions, severed data lines, failure of the air conditioning system, potential EMF hazards, and the applicability of the ADA to cyberspace.

Retailers need to know how the mall owner defines broadband? Will it be fast enough for the retailer over time? Uninterrupted power supply is another concern. A poignant example of how dependent computers and the Internet are on electricity is the California power crisis. Does the mall have an on-site generator to supply it during brownouts or grid failure? Redundant communication lines are also necessary. Is there an extra cable to switch to when a backhoe severs the phone or fiber optic line in the parking lot? A back-up air condition system may be required. How will the mall's servers be protected should the cooling system fail? Another concern is EMF emissions. Will electric and magnetic fields interfere with the tenant's computer equipment as more cables, servers and switches are stuffed into the property? A related EMF issue is the ongoing debate over whether the radiation emitted presents a health risk.

In addition to redundancy and safety issues, retailers will need to consider the applicability of the ADA (Americans with Disabilities Act) to Web sites. What special measures are necessary, if any, to assist online customers whose hearing or vision is impaired? Does the retailer have potential liability for the landlord's failure to provide the proper software protocols? 15

The advent of landlord-sponsored broadband and software applications for merchants place them in uncharted leasing waters. Most tenants will have little experience with the new risks. They can be expected to act with skepticism and caution, in contrast to the mall owners' enthusiasm for cyberspace.

IV. Can Mall Owners Leverage Cyberspace?

It is unlikely mall owners will be successful in boosting sales from online transactions and making money by providing broadband services and software applications. National tenants have a strong incentive to migrate some sales online as their customers' experience with the Internet grows. Providing broadband service to tenants is likely to become a low profit, commodity business and the upside for software applications like Found.com seems limited.

What mall developers need to do is what they do best - merchandise their malls with an ever changing assortment of experiential retailers including MetaSpacesm tenants. They also need to utilize the Internet and broadband to make the physical experience as interesting and entertaining as possible. (10-22-01)

*Mark Borsuk (mark@borsuk.com) is Managing Director of The Real Estate Transformation Group, a firm analyzing information technology's impact on space demand and providing strategies for property owners, developers, retailers and lenders. In addition to consulting, Mark is a retail leasing broker and real property attorney practicing in San Francisco.

Some have called him a "fringe visionary" for advocating radical change in store leasing strategy. In his view, high tech is becoming everyday tech for many people. Everyday tech changes geocentric shopping habits, retailer space needs, rents and property values. Everyday tech also makes possible MetaSpacesm. MetaSpacesm is a retail development model that fully integrates place with cyberspace.

Mark writes frequently about the impact of online buying and MetaSpacesm. His articles appear in California Real Estate Journal, Chain Store Age, Discount Store News, ICSC Research Quarterly, Pensions & Investments, Real Estate Review, Shopping Center Business, Shopping Center World, The Industry Standard and Urban Land. Much of his analysis is on the Internet.

Mark has presented his views to the American Real Estate Society (ARES), the Appraisal Institute, the International Council of Shopping Centers (ICSC), the International Mass Retail Association (IMRA), the National Association of Industrial and Office Properties (NAIOP), the National Association of Real Estate Investment Managers (NAREIM), the National Retail Federation (NRF), the National Retail Tenants Association (NRTA) the Stanford Real Estate Round Table, the Urban Land Institute (ULI) and institutional investors.

Prior to entering real estate, Mark was a foreign exchange trader and currency advisor in New York and Tokyo. Speaking and reading Japanese, he pioneered in the analysis of the Yen and the Japanese money markets. His articles appeared in many financial publications including Euromoney and the Asian Wall Street Journal.

Mark holds an MBA from Sophia University (Tokyo), a Japanese language certificate from Nichibei Kaiwa Gakuin (Tokyo), and a JD from Loyola University (Los Angeles) where he was a member of the Law Review.

[15] Bob Tedeschi, Advocates of People With Disabilities Take Online Stores to Task, New York Times,
January 1, 2001. (http://www.nytimes.com/2001/01/01/technology/01ECOM.html?searchpv=tech)
News Releases | Articles | Upcoming Talks | Memorable Quotes
Links | About Mark Borsuk | Search | Add to E-mail List
Contact Info | Paris Flat 4 Rent |Home
Copyright ©1995 - 2020. Mark Borsuk. All rights reserved. Disclaimer notice