Avoiding Catastrophic Failure:
Strategic Store Leasing Issues for the Omni-Channel Retailer
Mark Borsuk
Managing Director, Real Estate Transformation Group
email: mark@borsuk.com
New York - January 14, 2001
National Retail Federation Annual Convention
(Speech revised for publication)
Copyright © 2001. All rights reserved.
The rapid growth in online transactions provides a powerful incentive for mass merchandisers to become omni-channel retailers. Last year twenty million households purchased $29bn of goods online. Next year online buying households will double and purchase $70bn of merchandise. Smart retailers realize the best customers expect to shop whenever and wherever it is convenient for them. Retailers providing an omni-channel presence strengthen their relationship with this key constituency. Developing an omni-channel presence requires rethinking store growth and leasing strategy. Mass merchandisers should use the INFOTECH SCANsm to evaluate stores. The methodology focuses on whether planned or existing locations are subject to online cannibalization. In addition, the omni-channel strategy requires using WiredLeasesm tactics to shorten lease terms, downsize stores and terminate leases early. Beyond the WiredLeasesm are new questions about developers providing Web site hosting, broadband connectivity and software application services to tenants. Many retail property representatives are unfamiliar with the intellectual property and telecommunications issues related to the Internet. Benefiting from merging place with cyberspace requires lease negotiators to understand these issues. The emergence of the PresenceAgreementsm will assist dealmakers by integrating intellectual property and telecommunications law with the traditional space lease.
What is Omni-Channel Retailing?
Sally is using her Web enabled cell phone to comparison shop in your store. See figure 1, below. She might be using DealTime or MySimon to compare features or prices while walking through the aisles with a catalog. Does it still matter what channel she is using? Increasingly, channel designation is irrelevant to customers who expect to browse and buy whenever and wherever it suits them. Today, the best customers are omni-channel buyers, and retailers can no longer view the store, catalog and cyberspace as separate entities. Instead, they should make the most of their inherent synergy.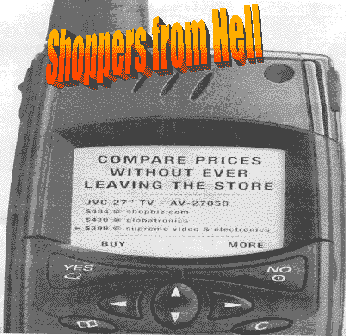 Deng Xiao Ping's Trenchant Aphorism.
In thinking about how leasing and location analysis relate to omni-channel retailing, it is useful to recall the words of that great retail maven, Deng Xiao Ping, former boss of the Chinese Communist Party who said "it doesn't matter if a cat is black or white, as long as it catches mice."
The aphorism stands for the proposition that retailers are merchandisers first and site selectors second. However, during the last four or five thousand years the belief was that these skills were synonymous, i.e., the best merchandise selection coupled with the best location generated the most sales, thereby generating the highest rent for the property owner. In a geocentric retailing environment, merchants have to open new stores to maintain sales and earnings growth. Today, the non-geocentric shopping habit calls into question the need for aggressive store growth as the exclusive way to grow the top and bottom lines.
Disruptive Technology's Impact on Retail Space Demand.
In order to understand how online buying can impact retail space demand and leasing strategy it is necessary to consider the role of disruptive technology, how disruptive technology changes orthodox beliefs and how the beliefs influence strategic thinking. How disruptive technology impacts strategic thinking is illustrated by the change in naval warfare brought about by aircraft carriers. See figure 2, below.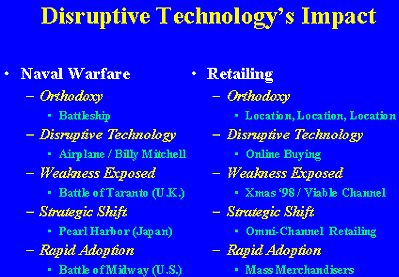 For centuries naval warfare orthodoxy required massing firepower against the opponent's ships. After the First World War, ship based aircraft, a disruptive technology, changed naval offensive thinking. Billy Mitchell's sinking of a captured battleship in 1921 demonstrated the devastation unleashed against capital ships by airplanes. This exposed the weakness in the Navy's line-of-sight strategy leading to the development of aircraft carriers although naval doctrine continued to favor battleships.
The Japanese were keen observers of these developments during the interwar years. The Imperial Navy developed technology and tactics to create a very superior aircraft carrier battle group (Kido Butai – Mobile Striking Force). Japan's mobile striking force devastated the American navy at Pearl Harbor, except for the carriers. Six months later at the Battle of Midway the balance of naval power shifted in favor of the Americans when they destroyed four Japanese carriers. This ferocious naval battle was fought without the fleets directly making contact. The change in naval strategy was complete.
Naval strategic history illustrates how location-based retailing will change. The orthodoxy of retailing is "location, location, location." Online buying is a disruptive technology. The online sales success during Holiday 1998 exposed the weakness of the orthodoxy. By 2000 many mass merchants were offering the online channel to better serve their customers. Thus, omni-channel retailing is a strategic imperative for many mass merchandisers.
Metcalfe's Law Drives Nation Online.
The popularity of online buying reflects a fundamental force motivating people to jump online. The force is Metcalfe's Law. Metcalfe postulates that as the network grows arithmetically, the value to each user and new user getting on the network grows exponentially. A striking example of the phenomenon is the growth in Japan of I-Mode enabled cell phone users. I-Mode connects cell phones to the Internet. The service launched in February 1999 with 2.5 million subscribers. By February 2001 there were twenty million users. The exponential increase in value received by new and existing users from being interconnected to the Internet drives I-Mode's popularity. The growth in value to US households again illustrates Metcalfe's insight. See figure 3, below.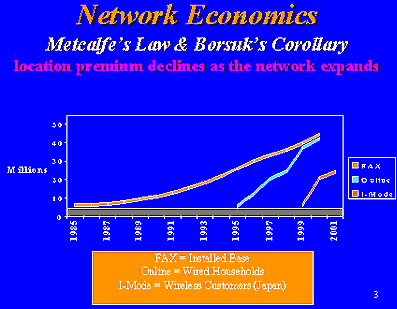 Parenthetically, if Metcalfe can have a law, Borsuk can have a corollary. Borsuk's corollary postulates that as online buyers increase, the premium imbedded in rent for location declines. Another way to think of the corollary is to consider Jeff Bezos's recent comments about retail stores. He said, "…we [Amazon.com] are short real estate and long technology. Technology gets cheaper every year and real estate gets more expensive every year."
The Internet's strong pull is being felt throughout society. There is gender parity online. The average user is married, forty-one with kids and has a household income of sixty-five thousand dollars. Examining online households by race and ethnicity shows a consistent pattern of growth. According to a US Government study, Asian households grew from thirty-six percent in 1998 to fifty-seven percent last year while White households went from thirty percent to forty-six percent. Black and Hispanic households also experienced significant growth albeit from a lower base by doubling to twenty-four percent over the same period. See figure 4, below.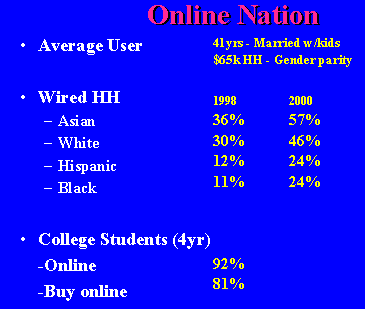 Looking ahead, mass merchandisers should be preparing for Black and Hispanic households to be online in a similar ratio as White households. More importantly, when one looks at future customers, four-year college students already tell the story. Ninety-two percent of them are online. Why? Because where else are they going to get their class notes and assignments? How else are they going to e-mail papers to professors? Today, being online is the norm for college students, but more importantly they know how to buy online, with eighty-one percent of them having made a purchase. How will mass merchandisers relate to the next generation of customers and their omni-channel buying habits?
Online 2000: "S" Curves, Women, Irresistible Value Proposition and Total Purchases.
Another way to look at the online buying phenomenon is to use a technology diffusion curve analysis, the so-called "S" curve. The "S" curve graph shows how rapidly a user population adopts a technology over time. See figure 5, below. The first group to adopt the technology is the innovators who comprise about three percent of the population. The next group is the early adopters making up another thirteen percent. The early majority follows with thirty-four percent. Together they comprise half the potential users. Thereafter, the late majority, comprising the same share as the early majority, adopts the innovation. Finally there are the laggards.
In the case of households about one-third will not use the Internet in the foreseeable future. This leaves a potential for sixty-six million wired households. Last year, more than forty million households were online and about half were purchasing goods and services. By 2002, the twenty million online buying households should increase to forty million, or roughly sixty-five percent of the sixty million households projected to be online. Thus, the trajectory for the online buying population is known. How will the forty million households transacting in cyberspace impact space demand and leasing strategy?
Intertwined with a growing household presence are women online. The common folklore about women being intimidated by technology and needing to "touch and feel" the merchandise is belied by the facts. In 2000 women became equal with men as online purchasers. By 2002 women will be sixty percent of the purchasers, moving up from forty percent in 1997. They will assert their influence online as they do in offline shopping. The change has enormous implications for mass merchandisers developing an omni-channel presence.
Metcalfe's Law rewards users for going online, but they are seduced by a combination of low price and convenience to buy online. In other words, online buying represents an irresistible value proposition for purchasing many brands, restocking items and commodity merchandise. Online buying offers the value pricing of the warehouse club with the convenience of shopping from the dorm, office, home or airport. See figure 6, below. An equally compelling attribute is the ability to comparison shop. By using services like DealTime or MySimon, shoppers can easily find the cheapest price for branded items or commodity goods. In many instances, the price is lower even after adjusting for shipping and sales tax, if applicable. Online comparison shopping also establishes the lowest everyday national price for many items. This has negative implications for retailers. Customers quickly learn when retailers are not competitively pricing, and margins are under continuous pressure due to the everyday lowest national pricing standard.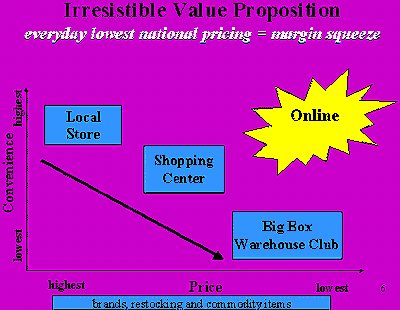 Holiday 2000 demonstrated the power of Metcalfe's Law and the Internet's irresistible value proposition for women. The most important fact about Holiday 2000 was that online merchandise sales doubled. During the last nine weeks of the year PCData's survey found sales more than doubled, from just over four billion in 1999 to about nine billion. See figure 7, below.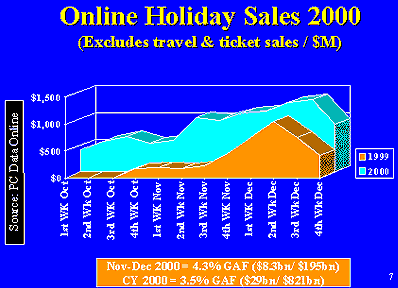 A second important fact about online buying in 2000 is its rapid growth as a percentage of general merchandise, apparel and furniture (GAF) sales. Using the Forrester/NRF Online Retail Index, merchandise purchases reached 3.5% ($29 bn / $821 bn) of total 2000 GAF sales. Holiday sales (November – December) reached 4.3% ($8.3 bn / $195 bn) of GAF sales.
Another insight into Holiday 2000 comes from the Nielsen/NetRatings data on virtual foot traffic (unique visits) during the period Nov 5 – Dec 24. In 1999 Amazon and Toys-R-Us received a combined total of sixty-one million unique visits. It jumped last year to one hundred and twenty-four million. Similarly, traditional retailers also enjoyed significantly higher holiday traffic. J.C. Penney received more than fourteen million visitors, increasing from six million a year earlier. Even newcomer Best Buy received over twelve million hits during the period. In addition, comparison shopping sites like MySimon, DealTime and Bizrate were heavily used during the season receiving almost a million visitors per day.
Holiday 2000 demonstrated the increasing role of the online channel for many mass merchandisers. Today, an important customer segment thinks online buying is as American as apple pie. Retailers must respond to this non-geocentric shopping habit by offering their customers an omni-channel presence.
Evaluating the Omni-Channel Opportunity.
The challenge facing retailers is to determine how the online channel benefits them. How should retailers evaluate the threat and opportunities ahead? Formulating an omni-channel strategy depends on a number of factors.
What Works Online?
What works online can be thought of as a continuum going from experiential, idiosyncratic and full-service items like designer dresses found in malls to brands, restocking and self-service products found at big box retailers. It is along this spectrum that merchants gain an insight on how to interact with their customers. See figure 8, below. The more the product fits the self-service, restocking, commodity profile, the greater the incentive for customers to buy online.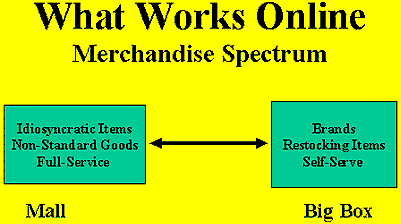 Does Online Buying Accrete Store Sales?
Last year the National Retail Federation published "Channel Surfing: Measuring Multi-Channel Shopping," examining the impact of online buying on traditional retailers. The analysis contained a number of interesting observations. First, multi-channel customers bought more than any other group of customers. Intuitively this makes sense since the best customers want to deal with the merchant online, via catalog and in the store. Second, Web browsers bought thirty-three percent more than store shoppers who did not browse online. This finding implies online customers are not shifting their transactions to cyberspace at the expense of in-store sales.
The study had several important limitations. First, two-thirds of the seventeen participants were soft goods retailers or department stores. Their merchandise is more experiential than standardized. Thus, the question: does the relative lack of hard goods retailers skew the findings? Second, last year's survey represents a point in time that does not necessarily reflect changing customer expectations about online transactions. It is too soon to say online purchasing has reached an asymptotic level of total sales. See figure 9, below. However, what the study establishes is a baseline for subsequent comparisons.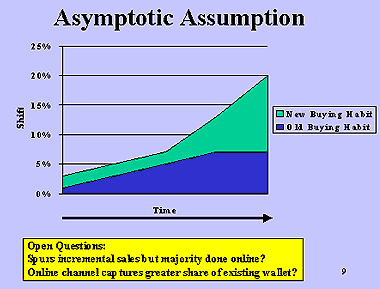 Closely related to the issue of omni-channel retailing increasing store sales is the argument over whether the online channel increases overall sales. Assuming the online channel does accrete sales, does it follow that a disproportionate share will continue to flow to stores? Alternatively, if the online channel does not accrete sales, does it cannibalize store sales either by retarding sales growth or causing an actual decline?,
Impact of Shifting Sales on Store Profitability.
If online transactions do shift sales, how does this impact store profitability? Studies show a small top line shift can have serious repercussions for the bottom line. An analysis done by PriceWaterhouseCoopers to examine the impact of sales migration found that a five percent shift could impact the store's bottom line by twenty percent. Another study, presented at the ICSC Research Conference several years ago, examined sister-store cannibalization and demonstrated that a seven percent sales decline could drive store profits down by almost fifty percent. The point is that retailers have high fixed costs, subjecting them to significant profit erosion from migrating sales.
Impact on Store Location Analysis.
Customers transacting with retailers whenever and wherever convenient for them challenge the assumptions and heuristics used in site selection analysis. Leveraging the online sales channel requires mass merchandisers to reconsider new store growth, the number of locations within an existing trade area and store size as inventory needs shrink.
Today, the consumption-related analysis of place model defines a store's potential sales performance. The C.R.A.P analysis examines demographics and psychographics of the core customers, as well as making inferences about drive times, competitors and the geography of the area. See figure 10, below.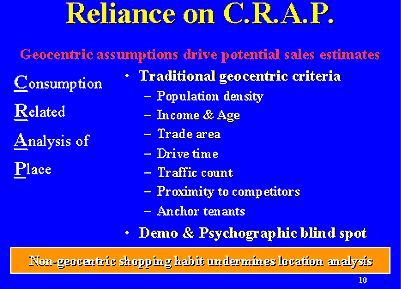 Looking ahead, does it continue to make sense to treat site location analysis as if there was no impact from tens of millions of households buying online, women as the majority of shoppers and growing merchandise selection from national retailers? Ignoring the trend blindsides those evaluating a site's profitability potential.
The INFOTECH SCANsm provides a method for evaluating potential online sales migration from the store to cyberspace. See figure 11, below. The first question to ask is, what works on-line? Where does the retailer's merchandise fit along the spectrum? Are the products more like restocking or commodity items or brands than experiential merchandise requiring full service? The more fungible or brand driven, the greater likelihood the merchandise works online.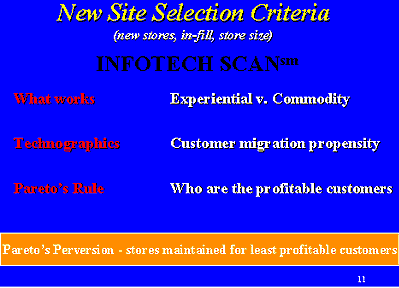 The second question asks what is the core customer's propensity to purchase online? In other words, what is their technographic predisposition? If favorable, they are likely to buy online. If negative, the retailer faces less online competition.
The third question considers the applicability of Parateo's Rule to the retailer's customers. Given the right merchandise mix, e.g., books, office supplies, and customer profile, the retailer could face "Parateo's Perversion." This occurs when twenty percent of the most profitable customers migrate a disproportionate portion of their purchases online, leaving the merchant to service eighty percent of the least profitable customers from the stores. The Parateo's Perversion scenario would be a disaster for retailers and property owners. While such an extreme case is unlikely, it is not farfetched to consider situations where thirty percent of the customers generate seventy percent of the profits. Recognizing this, retailers should use the INFOTECH SCANsm and other techniques to modify traditional sales potential analysis. Recently, Professor Joseph Rabianski proposed modifying the traditional analysis to take into consideration migrating sales. See "Retail Demand Analysis and Internet Retailing", Real Estate Review, FALL 2000, pp. 39-46.
An upheaval lies ahead for merchants who fail to follow their customers online. They will be selecting stores based on incomplete analysis and entering into long-term leases without considering how online buying can impact store profits. Thus, to become an omni-channel retailer requires a leasing strategy commensurate with the goal of meeting customer needs wherever and whenever they arise. The strategy has to shorten the initial term, allow stores to downsize and offer a cost effective means to exit the space as the retailer's omni-channel needs dictate.
Store Leasing Strategy.
Developing a leasing strategy to encourage omni-channel retailing requires the active participation of senior management, a consideration of Wall Street's view, use of combat economics and employment of WiredLeasesm tactics.
Omni-Channel Retailing is a Strategic Innovation.
Leasing strategy can only change if the CEO, CFO and Board of Directors believe in an omni-channel approach. The naval warfare analogy is telling. Today, retailers need to view the strategic environment as the Navy Brass did after Pearl Harbor by switching to a carrier based battle plan. If they make this decision, they require a different leasing strategy.
Wall Street's Concerns.
Wall Street's view on how traditional retailers leverage the online channel will influence leasing strategy. Those equity analysts who view store growth and lease length as potential risks will urge management to change strategy. Credit rating agencies may also become more sensitive to excessive store growth and the risk of lease bankruptcy. The consolidation within the movie theater business illustrates the risk to landlords and lenders of tenants rejecting leases in bankruptcy court. In addition, corporate governance activists may seek to pressure managements into improving their online performance.
Use of Combat Economics.
Combat economics is a term associated with Professor Eric Clemmons' work at Wharton on using information technology for strategic advantage. Applied to retailing, combat economics translates into knowing what your customers are doing in each channel on a real time basis. See figure 12, below. Battle management software could assist in forecasting sales channel migration or encourage channel shift through promotions. It could help in merchandise planning by offering appropriate SKU subsets for each channel audience, thereby helping to pare down inventory and reduce space. Finally, battle management software could assist in formulating leasing tactics to improve return on investment.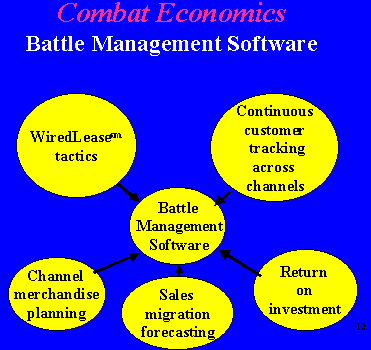 WiredLeasesm Tactics.
The WiredLeasesm is the sine qua non for omni-channel retailing. It takes the traditional space lease and makes it a part of an overall omni-channel strategy. The WiredLeasesm comprises an entry strategy, an operating strategy and an exit strategy.
Entry Strategy.
Initially the traditional long-term lease needs a shorter term. See figure 13, below. Ideally, the term should be to two to four years with a series of one year options instead of the more common seven to fifteen year term. The advent of online retailing presents the possibility of customers migrating their transactions to a degree that compromises store profitability. It also forces the merchant to rethink the scope of space improvements. The prospect of a short-term lease requires space planners and designers to use less costly and flexible fixture systems.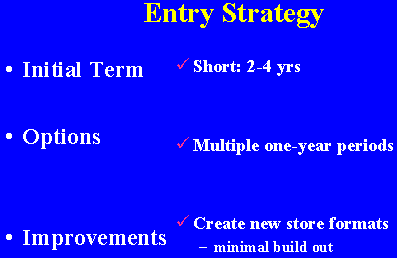 Operating Strategy.
The WiredLeasesm operating strategy covers use, percentage rent and other provisions related to space utilization and cost. See figure 14, below. A restrictive use clause may no longer be in the retailer's best interests. For example, competitive exigencies required many bookstores to offer food and beverages. It would be disastrous to have a restrictive use clause only allowing for books without permitting other ancillary uses like sales of magazines, food and beverages.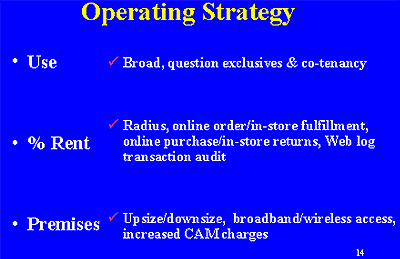 Another vexing problem is the store receiving credit for online sales in order to calculate percentage rent. Much has been written on the landlord receiving percentage rent from online sales but there are more contentious issues related to the topic. One concerns online purchases delivered to customers within a certain radius of the store. Landlords argue this should be included in gross sales. However, the only way the landlord would know the delivery address would be to audit the merchant's server logs for ZIP codes. Does this make sense from the retailer's standpoint? Should the merchant disclose such information? Will it violate privacy laws?
Closely related to percentage rent is the interrelated subject of exclusives and co-tenancy. The rapidly changing retail environment makes exclusives problematic. An exclusive could work against a retailer's effort to meet competitive challenges by preventing the merchandise mix from changing. For example, adding a teen line to a women's store. Equally important is the assumption about co-tenancy. If a retailer relies upon another merchant to generate foot traffic, what happens when that merchant decides to downsize from a twenty thousand square foot store to a twenty-five hundred square foot showroom? Arguably, the co-tenancy provision has little value.
Other tactical considerations are downsizing rights, broadband availability and common area maintenance (CAM) charges for cyberspace related costs. Channel flexibility requires obtaining the right to downsize or in some cases increase space size. This need, borrowed from office leasing, is appropriate for the omni-channel retailer. Broadband availability for credit card processing, Voice over IP, video conferencing, inventory management, intranets and online sales is increasingly important for merchants. Omni-channel retailers need to consider the availability and speed of broadband to existing and new space. Are they getting a wireless connection, connecting to fiber or are they just receiving a phone line for slow DSL? Finally, some landlords are hosting Web sites and providing additional software applications. How will these costs be passed to the tenant? Will it be through the CAM provision or in a separate agreement? How will the charges be allocated and is there an expense cap?
Exit Strategy.
The omni-channel retailer needs a flexible exit strategy to meet the growing influence of online buying. See figure 15, below. For example, a retailer negotiates a four year lease but two years later decides the location no longer complements the overall strategy. The right to an early termination is necessary. The right could consist of a rolling kick-out, assignment of the lease and no ongoing liability through a novation, going dark by terminating operations but continuing to pay the rent or giving the space back to the landlord with a put. All these mechanisms have a cost associated with them. However, not bargaining for them, as part of omni-channel strategy, will unnecessarily limit the retailer's flexibility in the future.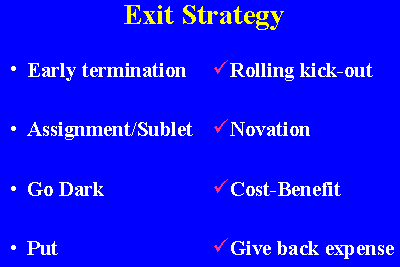 Rent Considerations.
The strategic goal of the WiredLeasesm is to reform the traditional lease into one capable of leveraging the online sales channel. However, the transition will not be without cost. Each aspect of the strategy - entry, operational and exit - implies greater risk for the landlord. Thus, if retailers negotiate in the traditional context they will find it difficult to gain the necessary flexibility. In order to change expectations, management must announce an omni-channel strategy. The announcement will serve to articulate a vision of aligning future growth with the customer's omni-channel perspective and to put property owners on notice of the strategic change. Initially, developers and landlords will pass the change off as a dot.com fad. However, as retailers progress in reforming the sales channel matrix, property owners will take notice and shift their tactics accordingly. Accomplishing the change may require paying a premium to motivate landlords to accept the risk. In other cases, it may not be possible to gain the necessary concessions during the initial term but to seek the concessions close to the option's exercise.
Aligning Interests in Cyberspace.
Merging Place with Cyberspace.
The customer's desire to buy online has motivated property owners to offer Internet solutions to merchants. Developers like Simon Property and General Growth Properties seek to merge a Web site, broadband and other software services with a mall. It is a location centric model. Another approach is MetaSpacesm, a model focused on the shopper. Implementing either model requires an agreement to cover more than the traditional lease. A new agreement called the PresenceAgreementsm is necessary to combine real property law with the emerging intellectual property and telecommunications legal issues.
Location Centric Model.
The purpose of the location centric model is to drive online sales and fulfillment through the mall store so as to count the sale for percentage rent purposes. See figure 16, below. The model has a number of flaws. First, it presupposes online customers are happy to order online and drive to the mall to retrieve their order. Second, it makes little sense for retailers to participate since it competes with their Web site. Third, there is little value to the merchant in sending a shopper to the developer's Web page in order to reach their site. Finally, fulfilling online orders from in-store inventory turns the retailer's supply chain efficiency model on its head. In short, the location centric model does not align the interests of the developer and retailer.
Customer Centric Model.
The customer centric mode, MetaSpacesm, seeks to align the interests of the merchant, customer and developer. See figure 17, below. It does so by placing the merchant's Web site exclusively on the developer's site to fully integrate it with the MetaSpacesm location. MetaSpacesm may be located in a mall, an office building or even a hotel. In most instances, MetaSpacesm tenants will be single store specialty retailers or unique service providers. MetaSpacesm can also appeal to traditional retailers testing new concepts that formerly required opening multiple locations. Instead of cluttering the merchant's Web site with the new concept and leasing stores, MetaSpacesm could serve as the test vehicle. The prototype would have a physical location and Web presence without a long-term commitment.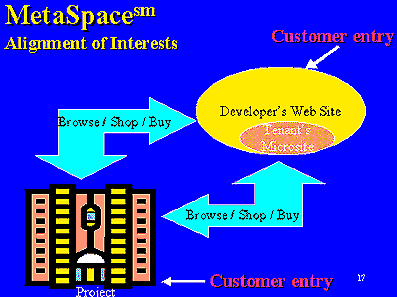 PresenceAgreementsm.
Both the location and customer centric models require a new agreement between the parties. See figure 18, below. The traditional space lease combining real property and contract law is no longer sufficient to serve the needs of developers or retailers. Extending occupancy to cyberspace creates new relationships, liabilities and profit opportunities. See figure 19, below. Negotiating the PresenceAgreementsm requires greater knowledge and an omni-channel perspective.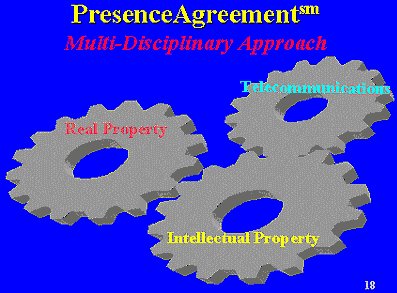 Intellectual Property Law.
Lease negotiators must first understand how intellectual property law can impact their deal. Patent infringement by a Web site is a real concern. Amazon.com's One Click ordering system is an example of a business process patent. When Barnes & Noble.com sought to use it, Amazon.com sued. The inadvertent use by a developer of a business process patent could potentially draw tenants into litigation. How can the tenant offset the risk? Trademark violations are another potential problem. Recently, Simon Properties sued MySimon.com, the online comparison shopping site, over trademark infringement. Could a developer's Web site design possibly infringe on a third party trademark? If so, what protections should the tenant seek? Finally, copyright issues abound. Is the developer's Web site using words, images and sounds of others without their permission? How do tenants protect themselves from the risk?
Broadband, Web Hosting and Telecommunications Law.
Developers are offering high-speed data networks and software applications. See figure 20, below. Broadband can advantageously link stores to the main office, to customers and venders. A coalition of mall owners formed MerchantWired to take the lead in bringing these services to merchants. Services include creating and hosting Web sites, faster credit card authorization, Voice over IP to reduce telephone charges and application software. One application service provider is offering an in-store, real-time inventory management program to allow online buyers to determine whether merchandise is in stock, purchase it online and have it set aside for later pick-up. Another aspect of broadband is telecommunications law. Depending on the situation, federal and/or state law will dictate who is responsible for what and the limit of damages.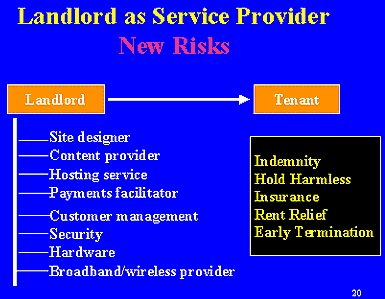 Lease negotiators must inquire about the reliability, redundancy and fault tolerance of these services, especially if the merchant's point of sale system (cash register) is connected to the system. What is the landlord promising in terms of system downtime? Is it realistic during the heavy demand periods of sales and over the holidays? Should the tenant demand a higher performance level like five nines (99.999% = 5 minutes and 27 seconds per year) or something stricter? What are the safeguards against viruses coming from a landlord-supplied service or hacker intrusion through the landlord's system into the merchant's computers? Consultation with the retailer's IT department or consultants is necessary to bridge the knowledge gap. In other words, the IT guy is the lease negotiator's newest and best friend. Together they can develop lease provisions to minimize losses from the landlord's inability to provide consistent and uninterrupted IT services.
Online security is another critical issue. How secure is the broadband connection being supplied by the developer? Does it fully protect merchant data transfers? What happens if a hacker breaks into the landlord's Web site and compromises visitor information? Could the retailer incur liability for a security breach on the landlord's site? Would it be a violation of federal or state privacy laws?
New Property Issues.
Providing broadband and software application services to tenants is new for retail leasing. Lease negotiators also need to focus on the physical manifestations of broadband and system redundancy like interruption of power, severed data lines, the lack of air conditioning, potential EMF hazards, and the applicability of the ADA to cyberspace.
Broadband availability is becoming an important question for retailers. How does the property owner define broadband? Does the lease negotiator know the speed (Mbps) difference between DSL, T-1, coaxial and fiber? Will it be fast enough for the retailer over time? Uninterrupted power supply is another concern. A poignant example of how dependent computers and Internet are on electricity is the California power crisis. Does the mall or big box have an on-site generator to supply it during brownouts or grid failure? Redundant communication lines are also necessary. Is there a redundant cable to switch over to when a backhoe severs the phone or fiber optic line in the parking lot? A back-up air condition system may be required. How will the mall's servers be protected should the cooling system fail? Another concern is EMF emissions? Will electric and magnetic fields interfere with the tenant's computer equipment as more cables, servers and switches are stuffed into the property? A related EMF issue is the ongoing debate over whether the radiation emitted presents a health risk.
In addition to redundancy and safety issues, retailers should consider the applicability of the ADA (Americans with Disabilities Act) to Web sites. What special measures are necessary, if any, to assist online customers whose hearing or vision is impaired? Does the retailer have potential liability for the landlord's failure to provide the proper software protocols? See Bob Tedeschi, Advocates of People With Disabilities Take Online Stores to Task, New York Times, January 1, 2001.
In summary, the familiar skirmishes between landlords and tenants over real property issues are about to break out into guerrilla warfare as the parties discover the risks and opportunities of merging place with cyberspace. Retailers need to use a multi-disciplinary approach to negotiate these new agreements.
Omni-Channel Retailing Meets Customer Expectations.
Many mass merchandisers see the benefits of transacting with customers online. Those who wish to exploit the opportunity will need to become omni-channel retailers. By integrating the store, catalog and cyberspace, retailers can meet the customer's desire to shop wherever and whenever she wishes. Implementing the strategy requires recognizing how online buying can impact store profitability and using WiredLeasesm tactics to obtain shorter leases, reduce store size, and secure early termination rights. In addition, soon lease negotiators will confront intellectual property and telecommunications issues. They must be prepared to avoid the tricks and traps. All sides will find the traditional lease deficient. They will move to a format like the PresenceAgreementsm to better accommodate the new legal concepts and to provide the necessary safeguards for the parties. (March 30, 2001)
---
About Mark Borsuk
Mark Borsuk (email:mark@borsuk.com) is Managing Director of The Real Estate Transformation Group, a firm analyzing information technology's impact on space demand and providing strategies for property owners, developers, retailers and lenders. In addition to consulting, Mark is a retail leasing broker and real property attorney practicing in San Francisco.
Some have called him a "fringe visionary" for advocating radical change in store leasing strategy. In his view, high tech is becoming everyday tech for many people. Everyday tech changes geocentric shopping habits, retailer space needs, rents and property values. Everyday tech also makes possible MetaSpacesm. MetaSpacesm is a retail development model that fully integrates place with cyberspace.
Mark writes frequently about the impact of online buying and MetaSpacesm. His articles appear in California Real Estate Journal, Chain Store Age, Discount Store News, ICSC Research Quarterly, Pensions & Investments, Real Estate Review, Shopping Center Business, Shopping Center World, The Industry Standard and Urban Land. Much of his analysis is on the Internet.
Mark has presented his ideas to the American Real Estate Society (ARES), the Appraisal Institute, the International Council of Shopping Centers (ICSC), the International Mass Retail Association (IMRA), the National Association of Industrial and Office Properties (NAIOP), the National Association of Real Estate Investment Managers (NAREIM), the National Retail Federation (NRF), the National Retail Tenants Association (NRTA) the Stanford Real Estate Round Table, the Urban Land Institute (ULI) and institutional investors.
Prior to entering real estate, Mark was a foreign exchange trader and currency advisor in New York and Tokyo. Speaking and reading Japanese, he pioneered in the analysis of the Yen and the Japanese money markets. His articles appeared in many financial publications including Euromoney and the Asian Wall Street Journal.
Mark holds an MBA from Sophia University (Tokyo), a Japanese language certificate from Nichibei Kaiwa Gakuin (Tokyo), and a JD from Loyola University (Los Angeles) where he was a member of the Law Review.
More Articles by Mark Borsuk
Aligning Interests In Cyberspace, Shopping Center Business (October 2000)
How Online Buying Defies Site-Selection Folklore, Shopping Center Business (May 2000)
Under the Knife, The Industry Standard (January 24, 2000)
Death at the Margin, The Industry Standard (October 4, 1999)
In the Balance: The Net Changes Location Analysis, Chain Store Age (May 1999)
[Contact Mark for this article]
Online Buying Creates New House Rules, Shopping Center World (May 1999)
Nowhere Yet Everywhere: Investigating online buying's impact on retail property values. (April 1999)
Millennium Madness: Taking the shop out of shopping. (November 1998)
TOTAL WAR: online buying's assault on the store. (October 1998)
A New Sense of Place: INFOTECH's impact on the Home. (June 1998)
The Mad Mohel: Will Cybersurgeons Clip Retail REITs? (May 1998)
On-line Shopping's Impact On The Retail Store, Shopping Center Business (May 1998)
[Contact Mark for this article]
Retail Leasing Strategy for a Wired World, Journal of Applied Real Property Analysis, Vol. 2, 1998.
Web site cast big shadow over real estate leasing strategy, Discount Store News (January 5, 1998)
[Contact Mark for this article]
Third Wave Chutzpah: retailer leasing strategy for a wired world. (September 1997)
Cybermalling-A Retail Death Sentence?, Journal of Property Management. (March/April 1997)
[Contact Mark for this article]
Third Wave Wipeout: Do retailers need landlords in a wired world? (July 1997)
Will On-line Shopping Impact Retail Leasing? (June 1997)
The Challenge of Information Technology to Retail Property, Urban Land (February 1997)
Third Wave Wipeout: Commercial Property Investment in the Information Age., Inman Real Estate News (June 25, 1996) ()
Is Commercial Real Estate Investing Still Profitable in the Information Age?, Real Estate Forum (June 1996)
[Contact Mark for this article]
Technology complicates real estate investing, Pensions & Investments (January 20, 1997)
[Contact Mark for this article]
THIRD WAVE TSORIS: Do Real Estate Investment Fiduciaries and Appraisers Have
[Contact Mark for this article]
Greater Liability in the Information Age? (November 1996)
[Contact Mark for this article]
THIRD WAVE WIPEOUT: INFOTECH's Impact on Retail Space Demand.
[Contact Mark for this article]
What Is the Impact of INFOTECH On Commercial Real Estate?, SIOR Professional Report (Spring 1996)
[Contact Mark for this article]
Don't be a Cyberputz, California Real Estate Journal (March 1996)
[Contact Mark for this article]
Real Estate Tax Policy for the Information Age, Real Estate Review (Winter 1996)
[Contact Mark for this article]
Commercial Real Estate: Road Kill On The Info Highway?, Microtimes (October 1995)
[Contact Mark for this article]
News Releases | Articles | Upcoming Talks | Memorable Quotes
Links | About Mark Borsuk | Search | Add to E-mail List
Contact Info | Paris Flat 4 Rent |Home
Copyright ©1995 - 2020. Mark Borsuk. All rights reserved. Disclaimer notice